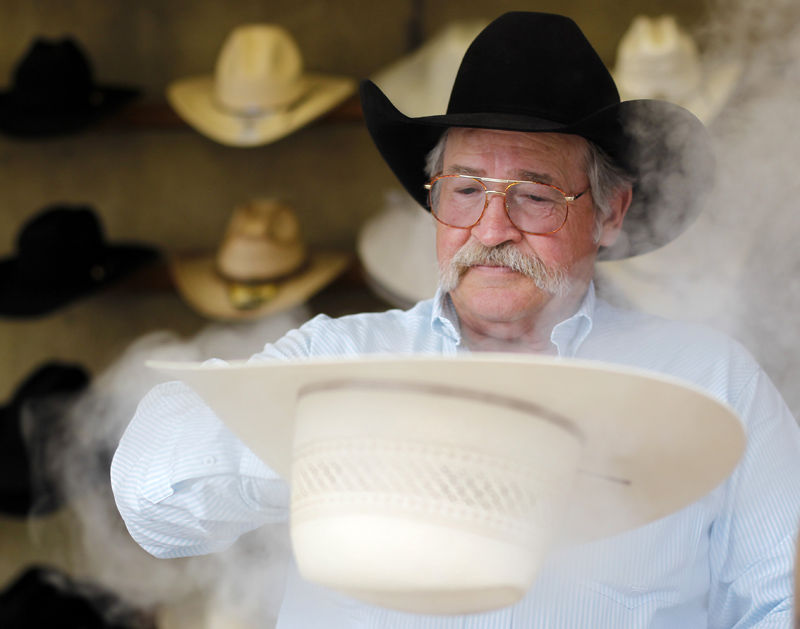 CHEYENNE – Fitting in with the locals during Cheyenne Frontier Days is easier than it has ever been.
The world of Western fashion is constantly changing, and few people – especially women – wear traditional styles anymore.
Michele McGuire said, "You can make anything Western." She is a sales associate at Just Dandy, the oldest women's boutique in downtown Cheyenne.
Owner Virginia Brinkerhoff said if you shop in her store, you'll find an "eclectic collection of ever-evolving Western fashion."
Wandering around the feminine store, McGuire pointed out various items that aren't technically Western until they're accessorized. Those included items ranging from fancy lace dresses to much more plain business shirts.
"You can dress it up with a concha belt and some turquoise," McGuire said. Turquoise and silver jewelry is a traditional part of Western fashion that continues to be popular, despite the changes.
McGuire said the Western staples that any woman aiming to look Western needs are a belt and boots, but Western jewelry is a big boost to any outfit.
Keep an eye out during Cheyenne Frontier Days for Miss Frontier and her Lady-in-Waiting. The matching pair can almost always be found sporting turquoise and silver jewelry.
A few blocks away stands the Wrangler, a bright red, historical Western clothing store in the heart of downtown Cheyenne. There you can find racks of Montana silver jewelry right next to a display of Cheyenne Frontier Days buckles – a great souvenir, even for locals.
Shelton Humphries, assistant manager at the Wrangler, and Kourtney Hubbard, assistant manager at the Boot Barn on Dell Range Boulevard, both agree that Western fashion no longer follows the rules set for it years ago.
Women's fashion – and even some men's – continues to include much more sparkle and "bling" than it historically did.
A great example of that is Miss Me jeans, a popular, but expensive brand Hubbard calls "sparkly-butt jeans" after the designs on the back pockets.
Humphries said if you prefer tradition, you still can buy retro Wrangler jeans, a button-down shirt with pearl snaps and a pair of boots. The Wrangler has a wide selection of those, as well as more modern selections, often popularized by country music artists.
If you're buying boots, Hubbard said you should be careful of the fit and the heel. Some are made for walking, and taller heels are made for riding.
And if you buy boots, don't skip the boot socks.
"The tops of boots can rub your leg raw," Hubbard said. Boot socks are higher than boot tops, saving wearers some interesting injuries to show off when they switch back to shorts.
Regardless of what you choose to wear and how you dress it up to look Western, a hat will almost always do the trick.
"If you really want to get into looking like you fit in here, I would say definitely buy a straw hat," Hum-phries said.
Hubbard said straw hats are the norm during the summer. In fact, some locals consider it a hard-and-fast rule to wear straw in the summer and felt throughout the remainder of the year.
The Wrangler sells straw and felt hats, both pre-formed and shapeless. Employees at the Wrangler can custom shape hats, but Humphries said not to try it yourself. Without steam, the hat will easily break.
But for those who don't want to wear the wide-brimmed hats of the region, Humphries said a baseball cap with a Western logo will do just as well.
In fact, you might need to attend a rodeo to find more people in cowboy hats than baseball caps.
That shift is one more sign that Western fashion continues to trend toward contemporary styles with Western accents.
The moral of the story is that you don't need to spend a lot of money on traditionally Western clothes, unless you really want to. The clothes you have in your closet or suitcase will fit right in with just a few Western trimmings.