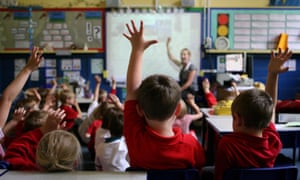 I am one of these "unqualified" teachers (60% rise in unqualified teachers, says Labour, 26 July), although I have worked in education for 26 years, in a variety of sectors – higher education in the UK and overseas, secondary education (both co-ed boarding and single-sex day schools), adult education services, private tutoring. I have an Oxbridge degree, and an MA and PhD. I am a published author in the disciplines of both music and English literature. For 10 years I was a head of sixth form and then university tutor in an independent girls' day school.
And yet I am deemed to be unable to guarantee children's safeguarding, control a class or adapt teaching to respond to the needs of all pupils. Were I to apply for a position in the state sector, or in some private establishments, I would be judged unqualified, not appointable, and a threat to standards. Then we learn that about "6,000 trainee teachers began courses after achieving a 2:2 or lower in their degree subject". Just who do we want to teach our children?
Dr Claire Seymour
London
• It should come as no surprise that a government that has treated "the blob" with such micromanagerial arrogance and contempt for the past six years finds itself with a recruitment and retention crisis. To address this by employing unqualified teachers will only serve to further deprofessionalise the qualified, and jeopardise the education of thousands of children. It is as deeply insulting as it is damaging. Moreover, it compounds the folly of removing teacher training from the universities.
Ian Barge
Ludlow, Shropshire
• An excellent piece on unqualified teachers. My only comment is that many Scots read your informed newspaper, and it would have been helpful if you'd indicated in your article that the issue refers to education in England and Wales, as education is a devolved matter to the Scottish government, as is the NHS.
Source:-theguardian