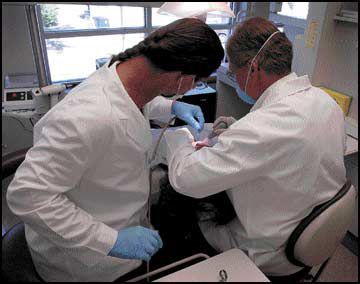 In this file photo from 2003, dental workers perform a procedure on a patient at Partnership Health Center in Missoula.
Every year, about 106,000 mostly low-income Montanans, a tenth of the state population, get their primary health care at a Federally Qualified Health Center that delivers to under served populations and communities.
But budget uncertainty in Congress has local medical providers worried about potentially devastating cuts that could tear holes in the only health safety net for thousands of those in need. The fund expired last year, and a stop-gap measure to extend it temporarily expires this week.
The House voted late Tuesday, 245-182, to approve a two-year reauthorization of the Community Health Center Fund. But the Senate has yet to act.
For an estimated 27,000 people with extremely limited financial resources, there are no other options for affordable medical treatment, including dental care, prescriptions, behavioral health services, social work case management or preventive care so they can remain in the workforce.
A significant portion of the funding for Partnership Health Center in Missoula and the 15 other centers that serve 40 locations across the state comes from the federal Community Health Center Fund.
"Partnership Health Center provides critical service to the Missoula community, providing health care to 15,000 people in Missoula and surrounding areas," said Laurie Francis, executive director of the center. "Many of our patients have complex health conditions and limited resources.
"Partnership utilizes federal funding to provide impeccable and affordable health care on a sliding fee scale to anyone who walks in our doors. If we are to support the lives of all members of our community, we need a commitment from our lawmakers to extend funding. We urge our leaders in Congress to act now and fix the funding cliff."
On Tuesday, all three members of Montana's Congressional delegation expressed support for Community Health Center funding and jointly held a press conference on the U.S. Capitol steps to demand action from their colleagues.
Rep. Greg Gianforte said he has been "a strong advocate for community health centers, which about one in ten Montanans rely on for their health care needs."
"Three months ago," the Republican said, "I voted to extend this vital program, and I voted again today to provide continued, predictable funding for our community health centers. I hope the Senate will act to protect Montanans' access to care."
Sen. Jon Tester said 130 days had passed "since Congress failed to fund Community Health Centers and put them in a world of hurt."
"Without long-term funding," the Democrat said, "these health care facilities could close down and lay off staff. It is time for Congress to quit kicking the can down the road and provide Community Health Centers with long-term certainty."
Sen. Steve Daines, a Republican, said the state's community health centers "are vital to providing health care to thousands of Montanans."
"Health care is a priority for Montanans and Washington, D.C., needs to get this done," he said.
The Affordable Care Act, otherwise known as Obamacare, created the CHC Fund, but the fund expired in September 2017. A temporary fix gave the fund new life until Feb. 8.
Daines and Gianforte both have voted for repeal of the Affordable Care Act.
Partnership Health in downtown Missoula employs 200 people and operates satellite locations in Seeley, Superior, the Poverello Center homeless shelter and at Lowell School in Missoula. Combined, they see about 60,000 patient visits per year.
Francis called Tuesday a "red alert" day and urged her coworkers to wear red. She that $3 million of PHC's annual budget of roughly $26 million is under threat if the CHC fund isn't reauthorized.
An 11 percent cut in PHC's operating budget "would not force PHC to close our doors, but would impact how we expand services, plan for the future and dive more deeply into community health," Francis explained. "The uncertainty just creates anxiety on the part of the patients and staff, and that's not healthy."
Patients are billed on a sliding scale depending on their income. Nearly 8 percent of patients at community health centers in Montana are Native American and over 4,600 are veterans.
Over 55 percent of patients nationally at these health centers are at or below the Federal Poverty Level. PHC treats many pregnant mothers with substance abuse issues, and Francis said at least 2,000 Missoula and Mineral County residents have no other options for healthcare.
Ultimately, Francis said poverty is the No. 1 cause of poor health. For example, she said some people may not get to the grocery store to buy fresh fruits and vegetables often enough because they can't afford transportation or they don't have adequate housing with a kitchen to cook healthy meals.
"The potential funding cut will prevent us from expanding services to address social determinants for health," she said.
["Source-missoulian"]