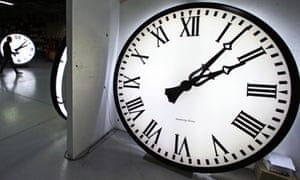 It's a busy week for the US labor secretary, Thomas Perez. On Tuesday, hours before the first of his three testimonies to the US Congress, the Labor Department finally submitted the long-awaited overtime rule to the White House for final approval.
Overtime pay is the unicorn of US workers' benefits, with just 11% of salaried workers and 18% of all workers being eligible for overtime in 2013. This is mostly due to the fact that most US workers earn more than the salary threshold that determines which US workers are eligible for overtime pay. Currently, only hourly paid workers and those earning $23,660 a year or less in salary are guaranteed overtime pay – one and a half times their regular pay – for any hours beyond a standard 40-hour workweek.
The Obama administration is hoping to expand the pool of eligible workers by raising the salary threshold, which was last updated in 2004. That update raised the threshold to $455 a week, but overall did little to increase overtime pay in the US.
The terms of the final rule submitted to the White House's Office of Management and Budget for review will not be disclosed until it is released to the public. When the proposed rule was announced in 2015, it called for a threshold of $970 a week – or $50,440 a year – that would expand the pool of eligible workers by more than five million people.
The new overtime rule has been a long time coming. Two years ago, in March 2014, Barack Obama first instructed the US Labor Department to devise the new rules that would allow workers other than deli managers, cooks and other low-wage workers to earn overtime pay. According to him, the salary threshold exception was originally established for "high-paid, white-collar employees" but has since been applied to many other categories of workers as well.
"If your salary is even a dollar above the current threshold, you may not be guaranteed overtime. It doesn't matter if what you do is mostly physical work like stocking shelves; it doesn't matter if you're working 50 or 60 or 70 hours a week – your employer doesn't have to pay you a single extra dime," Obama said at the time.
In addition to receiving a salary, overtime-exempt workers must pass a "duties test" that proves they are a supervisor. Supervisors are typically in charge of two or more full-time employees during a fraction of their work week.
Even as the US unemployment rate dropped below 5%, the Labor Department has maintained that wages continue to be the unfinished business of this recovery.
"It's one of the reasons why the president believes the minimum wage needs to be increased. It's one of the reasons why the Department of Labor is reforming our overtime rule," Chris Lu, the deputy labor secretary, told the Guardian last year. "The overtime rule would absolutely help wages and provide benefit of potentially higher wages to upwards of five million people in this country."
The final overtime rule is bound to come up this week as Perez faces off with the House and Senate appropriations committees on budget on Tuesday and Thursday and testifies before the House education and workforce committee about the department's "policies and priorities" on Wednesday.